Takoyaki: Osaka's everyday snack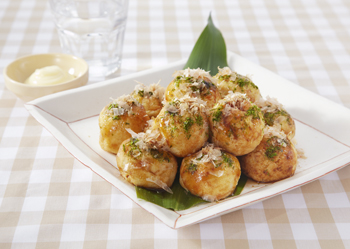 Takoyaki is a ball-shaped pancake that is believed to have originated in Osaka.Each ball is about 3 to 5 cm in diameter and contains a piece of octopus meat in its center. Other common ingredients used for takoyaki are tenkasu (tempura crumbs), negi onion, and benishoga (red pickled ginger). Ideal takoyaki has a lightly-crusty outer surface with inside that is soft and runny like monjayaki.
Takoyaki is usually topped with sweet and salty sauce and is sprinkled with aonori (green seaweed) and katsuobushi (dried bonito flakes). Some people like to add mayonnaise on it.